Get Started With Stuart's Most Effective Weight Loss Solution Today!
While most programs that promise real results push a traditional, one-on-one personal training program, our group fitness program offers a unique and uniquely effective way to train.
Our fitness classes focus on recovery, weight loss, and increased strength, giving you the tools to get a personalized workout that's right for you. Our team at ZT's Fitness Studio will help you enjoy higher energy levels, more stamina, and get unparalleled results -- whether you're here in Stuart, Jensen Beach, or anywhere nearby, ZT's Fitness Studio is offering the fitness classes that you've been looking for. Your results are a click away.
Just fill out the short form below to get started with our group fitness program!
Why Choose Fitness Classes at ZT's Fitness Studio?
We have several different fitness classes for you to enjoy:
Body Blast: Arms, legs, & core galore! Build, Define, and Torch Fat while having fun! This ROCKIN' HARD BODY strength training class will improve your metabolism, build muscle, and get YOU in the best shape of your life! Add weight training to your weekly workout routine to help you get lean and strong! This is NOT your typical boring weight training class. Challenging workouts are never repeated in order to give you maximum results and keep you boredom free!
Tabata Bootcamp: So you want more? Try this crash course workout. In and out. Offered four times a week, 30 minutes each time. Intense. Structured. It's Your Body and You're Going to Use It. Don't be late, don't whine, and be prepared to push it. Take it to the next level, you know you want to.
Gentle Strength: Stretch, strengthen and tone your arms, legs and core. This small group training focuses on technique, endurance and balance. An excellent workout for anyone starting a workout routine, or getting back into the groove. Die Hard gym rats will enjoy the discipline and the challenge of fine tuning their form!
Foam Rolling: RECOVERY FITNESS IS IT! This is the new way to exercise! Foam Rolling is self-massage fascia-release that allows the body to reduce muscular tension and tightness. No prior fitness experience necessary. No high-impact jumps or kicks, no fancy movements or crazy poses, we will leave you feeling accomplished and complete as we finish with a nice relaxing body stretch! This Class is a must for healthy minds & bodies!
Barre Above: Barre Above is a totally unique approach to barre workouts as you've seen them. Fusing the best of pilates, yoga, aerobics, and elements of the strengthening exercises dancers do, Barre Above delivers a results-driven workout that is not only fun and dynamic, but it will sculpt your body and get you into absolutely amazing shape. When taking a Barre Above workout: You'll see improvements in your posture, flexibility, overall body strength, and balance.
Chill @ The Barre: Our own exclusive Ballet inspired program lead by former ballerina and dance instructor. Using traditional ballet inspired moves to enhance your body alignment, posture, balance and core! No equipment is necessary, and no dance background is needed! So come feel the lengthening and strengthening of your beautiful body!
When you work out at a regular gym, you'll get a standardized training curriculum that may or may not work. At ZT's Fitness Studio, we give each one of our members personalized evaluations with the mission of better serving our community with group training sessions that are optimized for you. You'll get the same customized fitness plan that traditional personal training offers but with the accountability, support, and community atmosphere of a fitness class!
Through group fitness, we hope to help ordinary men and women from across Stuart, Jensen Beach, and Palm City achieve greater health and wellness. No fitness plan works for everyone; that's why our team at ZT's Fitness Studio wants to discover what's right for you.
Group Fitness can help you:
Discover a tight-knit community that will support and challenge you
Access plans to get you real results
Receive feedback on your progress as you work towards your goals
Get real results in a low-stress, high-accountability environment
ZT's Fitness Studio is designed for everyone -- by tapping into what makes you unique, we'll engineer a fitness program that's perfect for your body and your goals. Join us in Stuart and see how our group fitness can transform your body and your mind!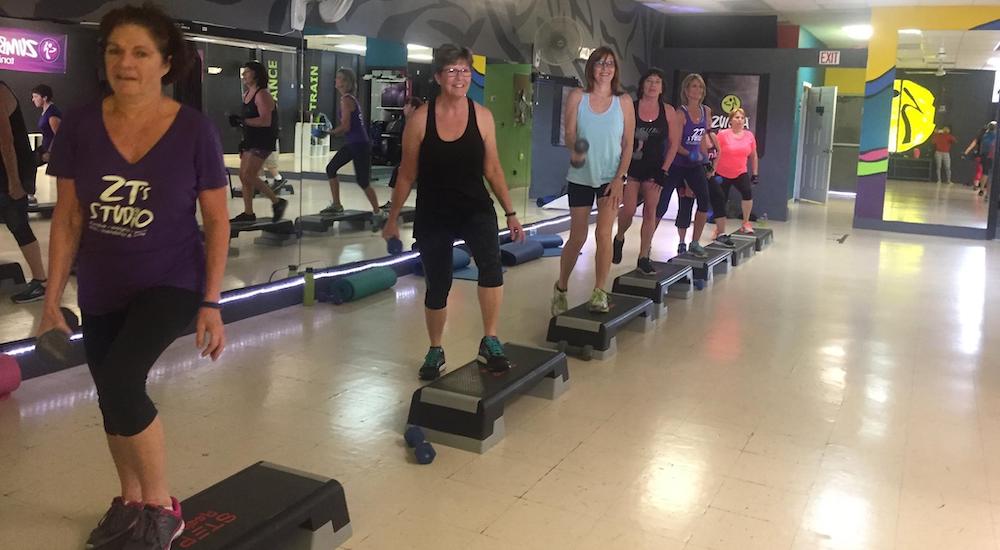 Sign Up For Our Fitness Classes Today!
Whether you're just starting out on your fitness journey or hoping to get back into shape, our group training offers the best weight loss program in Stuart. With a compassionate and dedicated team, ZT's Fitness Studio will help you commit to making change and following through, one step at a time.
Just fill out the short form below to get started on your weight loss journey!